Featured Artist this week is Jeanpatchbymk
bringing you handmade clothing accessories, beeswax candles, hollow books made into secret compartments, natural room freshener kits and much more! Marsha is offering a giveaway item this week for all of our reader's to enjoy. Leave a blog comment below and tell us how you would use this item.
Flower pin in Fall colors to one winner!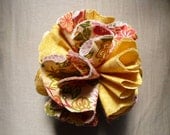 Flower pin measures 3 inches across and can be worn on any item. Visit her shop to see all of her wonderful handmade creations that make the perfect gift for any occasion. Click Here!
Tips Corner
Would you like to know how to offer a free ebook to your blog followers and customers as a 'Thank You' for their loyalty? Read this post on Jeanpatchbymk blog for easy to follow steps.
Click here
Wholesale Gift of the Month Club
If you would like to experience the excitement of opening a monthly package delivered to your door that is filled with wonderful handmade gifts that can be used for any occasion, then you'll want to sign-up for our Wholesale Gift of the Month Club this month!
Visit our website here to start your monthly subscription. All new members will receive a free offer valued at $30, a years membership in our Buyer's Club. You'll receive an additional free product every three months from one of our vendors.
The products in our wholesale gift of the month club sell for over $60 retail. You will receive six products monthly for only $20 which includes the shipping!
We know you will be delighted with our themed collection and will want to tell your friends about Markets of Sunshine's great gifts by mail program. So, for every friend that you refer, you'll receive an extra free gift valued at $5!
Join today and you'll get your first gift set for only $15 and then each month thereafter for only $20, you can adjust your subscription anytime by contacting our customer service department Monday through Friday 10 a.m. to 5 p.m est!
a Rafflecopter giveaway