We are so excited here at Markets of Sunshine to introduce you to our featured seller. Do you love to dress up your pet? It doesn't matter what kind of animal you own big or small you can dress it up in adorable pet outfits. Our featured seller this week is Sally Mollin of Bloomingtails Dog Duds. She lives in sunny Florida. She specializes in pet outfits for any small breed of animal. So, even if you want to dress up your cat, rabbit, guinea pig or dog she can do it to your specifications!
Here is a little bit about Sally so you can get to know her and her work better.
What motivated you to open your Etsy shop?
I'm a dog lover, and since I've designed and sewn clothing for my female Pomeranian, Dominique (a.k.a. Dom the Pom), who is the fashion model for my Etsy shop. Friends liked the clothes so much they advised me to sell them, so I opened my Etsy shop in December 2011.
What inspired you to select the designs you make?
Since many small dog owners tend to think of their dogs as being like little people (our "furbabies"), I enjoy basing my styles on people's clothing, such as my Executive Dress Shirt & Tie.
Do You Accept Custom Orders?
I enjoy dealing with people and enjoy the challenge of custom orders to fit small dogs and cats, for which I do meticulous measuring to make sure the garment will fit your pet. I also work hard at communicating with each buyer to make sure he or she will be happy with his or her purchase, and prior to shipping completed custom garments I send photos of them to the buyers for approval.
How Do You Treat Your Customer's?
My motto is: my greatest satisfaction is a satisfied buyer. Please feel free to check out my Reviews for proof.
My satisfied buyers are entitled to a 10% discount on each purchase, and their friends, relatives and coworkers referred to my shop can receive a 5% discount on each purchase.
Can You Show Us a Sample of Your Work?
Sailor Coat Can be made in X-Small, Small or Medium Sizes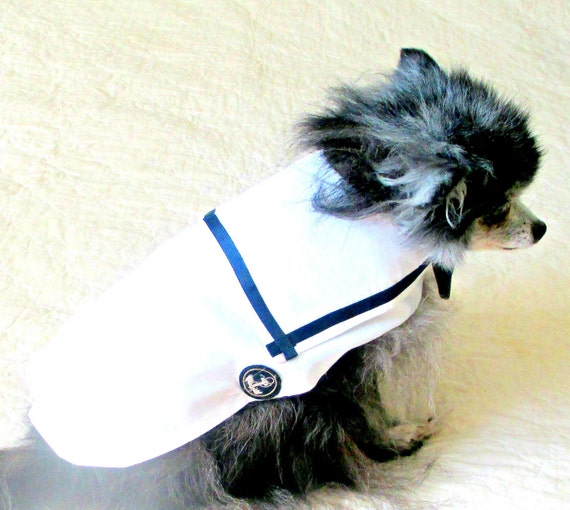 Sign-Up For Our Weekly Newsletter Here
!
Local businesses can also help
support women in small business
by being one of our host locations
for one of our tea party events.
Contact us at marketsofsunshineusa@gmail.com
Like us on
Facebook
Follow us on Twitter
Shop with Us, Vendor Classified
Markets of Sunshine has a simple mission to:
Supporting Lyme Disease Awareness
Promote Health and Education for Children
Educate on the Benefits of Eco-Friendly Living
and an Organic Lifestyle,
While Supporting Women in Small Business
Locally & Across the USA!
Sending you Sunshine!
Marsha Jaramillo