I thought we'd make this week's blog post a little more exciting and get you all to participate in a fun contest I came up with to go along with my DIY project for the week.
A Buy One Get One Free Offer!
(BOGO Contest)
I'm going to show you how to make your own altered book that you can use as a scrapbooking, as an art journal or even a save the date book for important events of family and friends.
Here is how to play the game and enter the contest.
1. You'll need an old book any size will do, just keep in mind what you want it to be used for and then you'll know what size to get.
2. Gather all your craft supplies you have on hand now such as glue, scissors, paper, ribbon, brads, paint, mod podge, gesso, buttons etc...
3. A camera and your imagination.
4. All entries must be submitted by June 30, 2014 to qualify for the contest.
5. Prizes:
Each participant and winner will receive a free $5 or more gift with purchase!
1st place
gets free shipping from any of the vendors on our
Vendor Classified
page
2nd place
gets a 10% off coupon to use in any shop on our
Vendor Classified
page
3rd place
gets a 5% off coupon to use in any shop on our
Vendor Classified
page
The
remaining participants
will get one sample product from each shop at the price
posted and a coupon for a future product discount.
Instructions to make your altered book:
Start by removing every 3rd page from the book right at the binding using a sharp cutting tool. If you are good at tearing, then score the page by the binding and then tear it off as straight as possible.
This will allow room for embellishing each page and gives room for the book to expand and still close.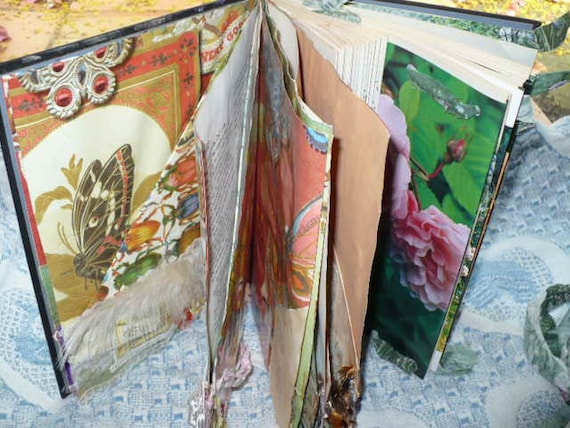 Now, just start adding embellishments to one side of the page and on the other fold the corner down to make a pocket as shown in these pictures of a book I altered. This book was sold to a lovely lady in Japan!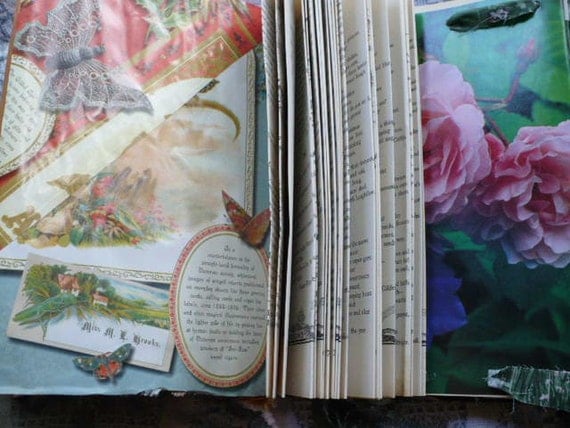 I laid the book flat and took a portion of the middle pages and folded them over to make more pockets. Glue the ends together using a glue stick. These make perfect places for small mementos like ticket stubs or receipts from vacations etc....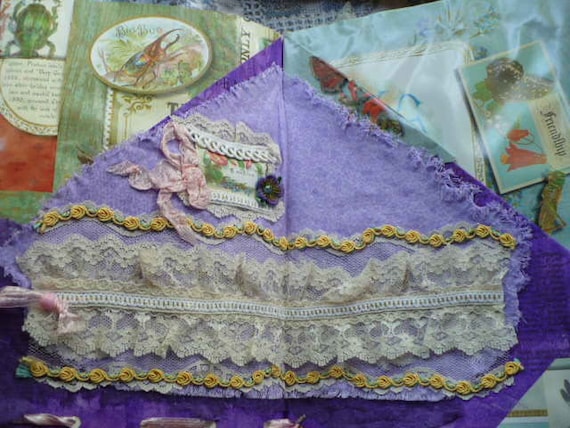 You can even add fabric like I did on these pages and then layered with ribbon and trim. I used calendar pages that were glossy to cover some of the pages as you see in this picture. I used a thick tacky glue such as Aleen's to make sure they stay in place. I also use a paint brush to smooth out the glue.
You can also use Mod Podge by Plaid and a sponge brush if you don't like the tacky glue.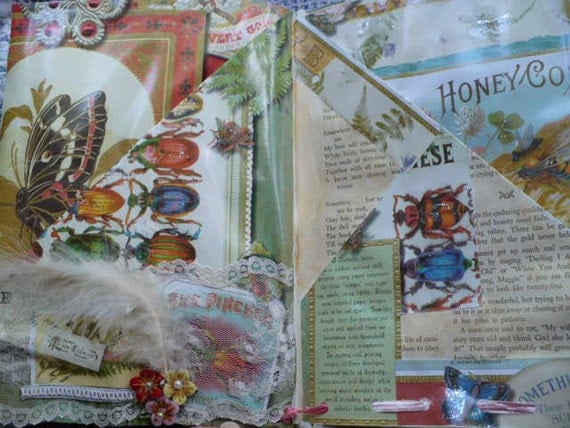 Another, technique that I use to make pockets is to punch holes in the bottom of each page and then thread a ribbon as you see here in this picture. The pink ribbon was then tide and had a charm attached with about 2 inches hanging out.
So, what will you use your altered book as? Maybe, an altered book journal? Or, how about an altered book scrapbook? Oh, I know, an altered book save the date book!
I've been working on a few for children and will be putting the finishing touches on them and adding them to my Etsy shop this month. Visit my shop on our
Vendor Classified page
along with all of our other great artist's shops.
Sending You Sunshine,
Marsha