We are pleased to bring you this week's featured Artist of handmade jewelry, Debra from DLA Bead Design! She is one of Markets of Sunshine's vendors in our Gift of the Month Club. She has been selling on Etsy since January 2012. Here are a few items you'll find in her shop and in our gifts by mail program.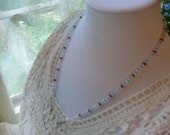 Eye Glass Holder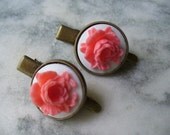 Hair Clip
We have some great Tips and DIY projects for you from Debra this week! Enjoy! Please leave a comment telling us how you like them.
Tip Corner
Applesauce Freshener Makes 12 to 15
1 cup applesauce
1 cup cinnamon
1 t ground cloves
Combine applesauce, cinnamon, and cloves and mix well. Press dough down until it's about 1/4" thick. ( Use your hands instead of a rolling pin). Cut out shapes using cookie cutters, then remove excess dough. Make small hole for ribbon. Do not move the shapes for 8 - 10 hrs. once they are cut, then turn them carefully every 8 - 10 hrs. until they are completely dry. I put them on wax paper for the drying time. Then you can decorate them with craft glue and glitter or just leave them plain. Please allow 2 - 4 days or more for dry time.
These can be used as a car freshener, gift tag or to hang in your house as home décor!
Recipe Fall recipe

Sweet Potato Bread

PREP: 20 MIN. BAKE: 50 + COOLING
YIELD: 1 LOAF (about 16 slices)

1-3/4 cups all-purpose flour
1-1/2 cups sugar
1-1/2 tsp. ground cinnamon
1 tsp. ground nutmeg
1/2 tsp. baking soda
1/2 tsp. baking powder
1/2 tsp. salt

2 eggs
1 cup mashed sweet potatoes
1/2 cup canola oil
1/3 cup water

In a large bowl, combine the first seven ingredients. In a small bowl, combine the eggs, potatoes, oil and water. Stir into dry ingredients just until moistened.

Transfer to a greased 9-in. x 5 in. loaf pan. Bake at 350 for 50-60 minutes or until a toothpick inserted near the center comes out clean. Cool for 10 minutes before removing from pan to a wire rack. Enjoy warm or cool.
Special Offers
A few weeks ago we launched our new program called '

Gift of the Month Club

' with a special offer to the first six that sign-up. You must pay for your first subscription and keep it to qualify for the free offer. Once, you have started your subscription we will send you an email with your free

Buyer's Club

membership number.
Refer your friends and family to our Club's and you'll receive a surprise gift in the mail as our way of saying 'Thanks'!
I will update the number of offers left each week as they are taken. I'm happy to announce we have had three new subscribers to our Gift of the Month Club! Woohoo!!!!
That means We only have three (3) special offers left, so hurry and get your special offer today and support Markets of Sunshine handmade vendors.
This week we want to give our reader's a special coupon to use in our Etsy shops. Use 'thankyou15' at checkout to get your special discount on your total purchase.

Click here

to visit our Etsy Team and shop with all our members!
Markets of Sunshine Newsletter
Have you signed up for our newsletter? If not, do so today at this link,
click here!
Each week our newsletter subscribers get a reminder that we have our latest blog post ready for them to read. Then on the last day of each month you get the regular newsletter filled with special offers, fun tips, recipes and great places for you to improve your health and your home just for our subscribers.
Have you signed up for our newsletter yet? If not, do so today at this link,

click here!
Etsy Team
Our Etsy team is growing with new vendors and shoppers! We have over 36 vendors on our team! Did you know that you can join as a customer/buyer without having a shop on Etsy?

Click here

to join our great team and support handmade artists from Markets of Sunshine and all over the world.
We hope you have enjoyed this weeks blog post with Markets of Sunshine and DLA Bead Design. Tune in each week for more great happenings from your favorite Artists in our Gift of the Month Club!
Sending You Sunshine & Blessings for the Week!

Marsha Jaramillo - Owner