Hello! Welcome to the Markets of Sunshine blog contest! This week we are doing a giveaway contest for one reader to win a natural room freshener or linen spray scented with natural fruit essential oil and made of natural ingredients. Hosted by Jeanpatch Holistics shop, a Markets of Sunshine vendor in our Gift of the Month Club!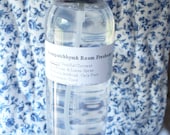 Natural Room and Linen Spray
Rules for Contest: 1. Leave a blog comment 2. Favorite
Jeanpatch Holistics
shop 3. Follow our blog Must be 18 years of age to enter and live in U.S. Contest ends January 25, 2014
Subscription Addiction Clubs
Are you addicted to subscription clubs? We have three great clubs for you to choose from at Markets of Sunshine

Gift of the Month Club

! Wahoo!
First, Our exclusive handmade gifts subscription! Woot!!! You get up to five full size products each month at a retail value of up to $45.00 for just the price of shipping and handling! No other club offers such a great deal.
Second, Our exclusive

DIY Scrapbook & Card Making Club

subscription! Wahoo!!! You get a box full of supplies to make six cards and six scrapbook pages each month! They come in our all occasion themes to match our handmade gift club. Retail value is $25.00 plus shipping and handling.
Third, Our exclusive

Direct Sales Club

subscription! Woohoo!!!! You get one full size product from one of these three popular companies (Thirty-One Gifts, Dove Chocolate or Tealightful Tea) each month and two samples with a retail value of $25.00 plus shipping and handling.
At Markets of Sunshine we combine eco-friendly products in with each gift subscription. So, whether you select our handmade gifts, diy projects, or the direct sales collection you will be receiving eco-friendly products in each package. We really care about you and the environment!
Free Shipping Each Month
Did you see last weeks post about our special offer each vendor from Markets of Sunshine gave to our customer's? If you missed it, go to this link and check it out

.....click here!
We are going to continue this special each month for one week during all of 2014! We love passing on savings to you whenever we can as our way of saying: Thanks!
Special Offers


Everyone is looking for great gifts to give Teacher's, workmates, friends and family. Why not give them a gift subscription to our '

Gift of the Month Club

'? This is the last week to get our handmade gifts by mail starting at $15 a month for the first month and $20 for each month thereafter.
The price will increase to $30 a month January 1, 2014, so don't wait, start your subscription today!
Markets of Sunshine Newsletter
Have you signed up for our newsletter? If not, do so today at this link,
click here!
Each week our newsletter subscribers get a reminder that we have our latest blog post ready for them to read. This is a great way to find out our latest specials and what new vendors have joined our Gift of the Month Club program.
Etsy Team
Our Etsy team is growing with new vendors and shoppers! We have over 36 vendors on our team! Did you know that you can join as a customer/buyer without having a shop on Etsy?

Click here

to join our great team and support handmade artists from Markets of Sunshine and all over the world.
****Look****

Want to open a shop on Etsy? Use this link and you will get 40 free listings to get you off to a great start.

Click here!
Thank you for taking time out to read this weeks blog post. I hope you will come by and shop with us and use the coupon codes.
Sending You Sunshine!
Marsha Jaramillo
Owner