I'm going to feature on of my vendor's this week that sells on Etsy. I'm also going to share with you my top 10 tips for getting more sales in your Etsy shop. I have been selling on Etsy since 2008 and have seen many changes over the years with the SEO (search engine optimization) which has driven me and other seller's nuts.
My shop name is

Markets of Sunshine FL

and

My Secret Compartments

. I'd love to have you stop by and favorite my shop and items. It's free to join Etsy so register today!
Many have left Etsy because of the changes they make that are supposed to help us get sales, but actually has cost us sales.
Why? every time they change the way search results are done we have to go into each item in our shop and change the titles, description and tags to reflect those changes.
Every time google makes changes the same thing happens again. You can see how time consuming this becomes when you have over 100 items in your shop!
Featured Vendor:

Blooming Tails Dog Duds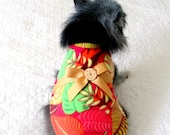 Tip #1 - Read all of Etsy's SEO articles before you open your shop. If you already have your shop open, stop adding more items until you truly understand how to use the SEO rules.
Tip #2 - Use a white background on indoor pictures with each item. Use plenty of natural light. This gives your shop unity and makes your pictures look better to the shopper.
Tip #3 - Add at least 100 items in your shop. The more you have in your shop the more often you will come up on the home page of Etsy.
Tip #4 - Add a new item daily in your shop. Do not renew items daily. Adding new ones gives you more inventory and more selection for shoppers to choose from. Repeat browser's will eventually buy if they see new items to choose from.
Tip #5 - Make items for men, women and children and add a good selection in each category.
Tip # 6 - Make items by season, not just holidays. I don't add any holiday items to my shop and I have always had good sales. A holiday item is only good that time of year. A seasonal item can be worn or used any time of the year.
Tip # 7 - Join a team that makes treasuries at least once a week. If you don't know what a treasury is then check out this one from my Journey to $3000 In Sales team (private team by invitation only): Click here to use the Etsy tool and add a treasury to your blog like mine below.
I am the Captain of two teams on Etsy: Markets of Sunshine Promotion Team, click here to join. And, Markets of Sunshine Vendor Events Team, click here to join.
We have won several
awards
from Etsy over the years and I am proud to have the support and loyalty of these wonderful women all over the U.S.A.!
A collection of hidden treasures from a few of my favorite shops.

Powered By
Handmadeology
Tip #8 -Post a shop update daily
Tip #9 - Promote your shop using social media and on your Etsy teams.
Tip #10 - Promote your products outside of Etsy and the internet. The best way I have found to do that is by handing out samples of your products to people in the community. Don't limit yourself to just your area, think outside the box.
You need to promote all over the U.S.A. since you sell to people all over the world, right! It just makes common sense to get the word out to as many people as possible. You need to have an advertising budget and marketing budget.
Joining either of my teams will help you promote your shop and get more customers.
When you join my team you will get more selling tips and tricks that I have found that work. Recently, I have discovered something that has really been an amazing tool to help me in my business and all aspects of my life. It naturally helps me be more successful in life, business and relationships.
Join my team and find out what this new tool is. You won't find it in any of the Etsy seller tips or handbooks.
Want to be in our goody bag?
by selecting how many samples
you want in our goody bags!
Local businesses can also help
support women in small business
by being one of our host locations
for an event.
Contact us at marketsofsunshineusa@gmail.com
Markets of Sunshine has a simple mission to:
Supporting Lyme Disease Awareness
Promote Health and Education for Children
Educate on the Benefits of Eco-Friendly Living
and an Organic Lifestyle,
While Supporting Women in Small Business
Locally & Across the USA!
Sending you Sunshine!
Marsha